Scoil Rince Ni Bhaird Irish Dancing School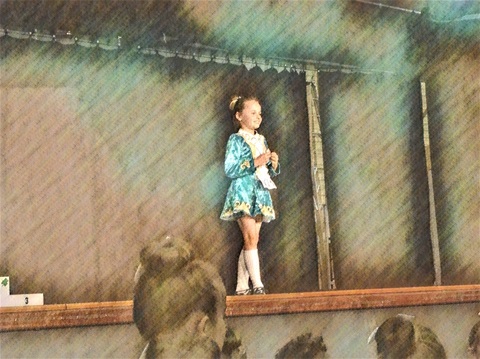 Scoil Rince Ni Bhaird has been open since 2012, so we are a new school located in Perth wa.
The school is a family run school led by Anthony Ward TCRG, assiting him is his wife Marina a fellow dancer. The school is based in lynwood South Perth Western Australia, our classes run tuesdays,thursdays in Lynwood and Saturday mornings in east Fremantle with all ages groups which range from 4 years - adults.
Anthony danced from the age of 5 years with the Mc Cormack School of Irish Dance Dublin, dancing in Dublin,Leinster,All Irelands and Over-Seas Championships, dancing at this level opened him up dancing all over the globe, settling into his last shows with Johnny Fox's Pub, the "Highest Pub in Ireland". Along his journey he has taught along side his sister Ann of the Ward School of Irish Dance Dublin producing the next generation of Irish Dancers.
Marina danced Irish Set Dancing from a young age along with her sisters with the Donaghmede Junior Set Dancers to which took her to various countries promoting Irish Set dancing to young and old, fundraising for concern and competing in various Comhaltas competitions this continued on to Irish Dancing through Sherry School of Irish Dance Dublin. This next line of dance open her up to travelling again and competing in Dublin,leinsters,All Irelands and over-seas championships, her lasts shows were with Disney in paris and loved every minute. She has a passion for many suits of dance including Salsa, Ballroom and zumba. She is also an age group manager with Cottesloe surf life saving club.
Both Anthony and marina met through their dedication to Irish Dance, married and now have five children, teaching each and everyone of them their heritage, hopefully passing on what they know and love.
Their incentive is to teach Irish Dance to who ever shall choose and have a passion for learning for fun, fitness or tuition......
daily quotes :
A little thought about what your children learn from being involved in Irish Dancing!
Those outside Irish Dancing often ask "Why do you pay so much money for your kids to do dance?"
But one parent was quick to reply "it's not just the dancing I pay for".....
- I pay for those moments when my kids become so tired they want to quit but don't.
- I pay for those days when my kids come home from school and are "too tired" to go to their practice but go anyway.
- I pay for my kids to learn to be disciplined.
- I pay for my kids to learn to take care of their body.
- I pay for my kids to learn to work with others and to be good team mates.
- I pay for my kids to learn to deal with disappointment, when they go to competitions but don't get that result they'd hoped for, but still have to work hard in their preparation and competitions.
- I pay for my kids to learn to make and accomplish goals.
- I pay for my kids to learn that it takes hours and hours and hours and hours of hard work and practice to create a champion, and that success does not happen overnight.
- I pay for the opportunity my kids have and will have to make life-long friendships.
- I pay so that my kids are not sat in front of a screen...
...I could go on but, to be short, I don't pay for Irish Dancing, I pay for the opportunities that have come from purchasing those first pair of pumps, and how this now provides my kids with to develop attributes that will serve them well throughout their lives and give them the opportunity to bless the lives of others. From what I have seen so far I think it is a great investment!
Speaks Volumes
Comments
18.01.2022 22:25
Anna Darbyshire
I am wanting my 8 year old daughter to attend your class in Bicton on Saturday morning. Are these classes going ahead this year? Have tried to call.
19.01.2022 13:50
Marina Scully-ward
Classes resume 1st week of school term in February,same hall in Bicton, the only classes that have changed was Lynwood,we have returned to the Lynwood hall
31.10.2021 12:05
Marina Scully-ward
Classes are $110 per ten weeks,adults are Thursday 6-7pm in Corinthian park hall
3794 Beatrice Ave, Shelley, until wandarrah hall is available again
30.10.2021 10:55
Yasmin Edoo
I am around 50 and I wanted to learn dancing as a hobby.
How much do you charge?
16.07.2021 08:04
Elaine Hall
Hi are classes resuming tomorrow for term three? Cheers
19.07.2021 12:01
Marina Scully-ward
All classes except Thursdays Lynwood class as there was water damage and they closed the hall for maintenance, replacement class on Saturday in Bicton